The name for this website, "Psymon," has no overly mysterious or magical origins. The name arose from that of a beloved pet dog I once had, Simon, who I cherished and raised as my only child, and who I's strived to give the best home and education that I knew how — but who, so very sadly and with an enormously broken heart, had to give up when I went through some unfortunate and terribly difficult times in my life.
That was decades ago, and he must be long, long gone now — I hope I did the right thing all those many years ago, that he was able to have a better life, and a happy life in the home of the couple who adopted him from me. May he at least be resting in peace up there in Doggie Heaven now, and know that he was always loved by me and never, ever forgotten.
✾
Breed(s):
½ American Staffordshire Terrier
¼ Doberman Pinscher
¼ German Shepherd
Education:
Bytown Obedience School (1987)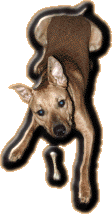 Listening Vocabulary:
Sit
Down
Stay
Go
Out
Good...
...Simon!
...boy!
...dog!
Wanna...
...cookie?
...go out?
...go for a...?
Get...
...your tail
...the bone
...the ball
...the stick
Give me/let go of...
...the bone
...the ball
...the stick
...the shoe
...the book
...the chair
...the bed
...the cat
...the dog
...[your name here]
NO!
Okay!

Spelling Vocabulary:
W-A-L-K
N-O-!-!-!
Speaking Vocabulary:
Woof!
Roof!
Hoof!
Arhhh!
Grrrr!
Heh-heh-heh-heh-heh...
AIEEE!!!
ah-OOOooooooooo...
Silly Pet Trick:
Watching TV calmly, unless Johnny Carson came on, at which point he would attack Johnny's image until the channel was changed.

S i m o n
1987 – ?