Þe Magical Arts
in Adobe Acrobat® (PDF) Format
Please Note: The pieces presented on this page are in Adobe Acrobat® PDF format, which can be viewed in Adobe Acrobat Reader (free to download and use).
✾
Once Upon a Time
A fond, affectionate reminiscence of a beautiful high school crush, as recollected three decades later but told as though it were written up in typing class on the last day of school.

Download Once Upon a Time (5 MB)
✾
Desiderata
Back in 2007, a friend of mine asked me to do up the famous, anonymously-written Desiderata piece, which I've now made available here for free download, and which is designed for printing out on legal-sized paper (i.e. 8.5" x 14" papersize), or can also be printed on standard (letter) paper as well but shrunk down to fit — check the page scaling options when you go to print it in Acrobat.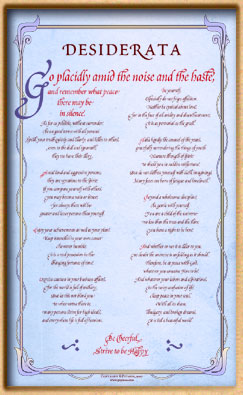 Download Desiderata (230k)